The heart of an email marketing strategy is mainly dependent on proper management. without proper email campaign management, it is like running your car with a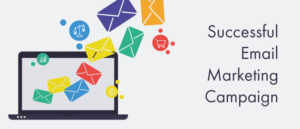 punctured tyre. The proper management consist of diverse interlocking activities and every initiative in this process conforms the intricate practices and then proper flawless execution. For beginner and amateur email markets, you need to take certain considerations that help in executing the proper strategy. For the improved email campaign management, you need, 
A dedicated manager of the campaign that executes the campaign through new and innovative methods.

Custom design banners that increase the number of click rates.

Fully and properly tested emails that can provide services.

Schedule that identifies the peak times to send and respond to emails, so the open rates increases. 

Optimization of the email services and designing it in the awesome view.

 
You still wonder, why email marketing campaign can be successful even when the number of other ways is getting more attention from the audience? for your information, there are more than 269 million emails sent daily and they are getting enough audience response. Among you, 90% of adults and 74% of teenagers are still using emails on a regular basis. Exclusive businesses and industries look for bigger ways to have a chance of getting known by a large number of people. Through the email marketing campaign, they can send emails to customers with high prospects. So, email marketing is a perfect tool that develops customer relationship and helps in generating sales. for the proper management and successful email marketing campaign you need to consider some steps. First, prepare a targeted email list so it becomes possible that 80% of your target people prefer to visit your website. Here, you can sign up page for the newsletter. The second step is to define your goals, so the email marketing campaign goes smoothly. Some typical goals can be welcoming new subscribers, segmenting your subscribers, boosting the engagement, re-engaging the subscribers, and nurturing the previously existing subscribers. The third step is to categorize the audience and type of email, so you send email to right audience. transactional emails can be sent that include order or purchase information, acknowledgement of subscriber or changes, welcome messages, and signup conformation. It is important to know the target and you can access the real data to work from google analytics and Facebook insights data. the most important consideration is to use the technology wisely and use the tools that help you in creating email marketing campaigns. For the strong email marketing campaign, there are different types of options such as welcome gates, lightbox popups, and exit intent popups. Finally, it is important for the strong marketing purpose to have firm command on the strategies used in the marketing. The managers are supposed to manage list of email subscribers, attempt to emphasize the inactive subscribers, and then improving per click rates for the active subscribers.